Baby Boomer Resources on the Internet
---
AARP was founded in 1958 by Dr. Ethel Percy Andrus, a retired high school principal. Eligibilty for membership  begins at the young age of 50. We encourage you to check it out! Read our review of AARP here.
---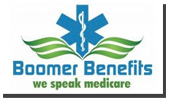 Anyone who has ever gone through the seemingly endless maze of red tape when dealing with Medicare, Medicaid, SS, Disability (or any other government services for that matter), knows how invaluable it is to have someone who speaks the language in your corner. Enter Boomer Benefits. They speak medicare fluently and their blog, by cofounder Danielle Kunkle, is a goldmine of useful information and advice.
Danielle is also a contributor to SfBB. Read her Introduction to Medicare For Baby Boomers here.