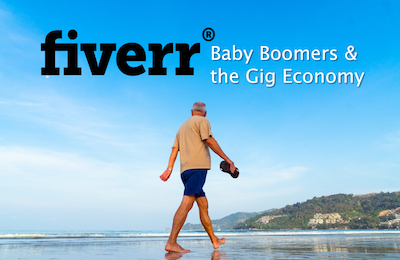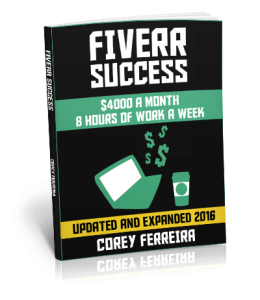 Have you heard the term "gig economy"? Basically this refers to an end to the proverbial 9 top 5 careers our parents grew up with and has now morphed into the lifestyle that the millenials have grown accustomed to, There is no longer any guaranteed job security with 401k retirement plans still intact after 20 years at the same job. This has given way to a new way of life where freelancing, independent consulting and short term gigs have spawned a new paradigm. One such example of how people are getting gigs is Fiverr.
 Fiverr is a website that affords people an opportunity to offer a wide variety of services – starting at $5.00 This is ideal for baby Boomers looking to work from home. Your home business can be whatever you choose to make it.
To those of you who ask, "What can I possibly offer that people would pay five bucks for that would even be worth doing for such small amount?", I say this:
Five dollars is only a starting price. You can add on other services (gigs) and earn substantially more money if you take the time to learn how Fiverr works. Some of the things seniors can do for Fiverr cash range from unskilled gigs to professional services including: voiceovers, be a spokesperson, design logos, edit videos, write articles for blogs, writing resumes, business plans, dance in a crazy costume to advertise someone's business, and many more.
Fiverr vendors have become very creative and as long as it's not adults only or in horrible taste, you can have fun with fiverr gigs. If you're good at writing rhymes or songs or play an instrument, you can offer to create custom videos playing a ukulele or a toy piano for birthdays or personalized holiday greetings.
As I said, you can make more than 5 dollars per gig. There's even a guy who lives in Israel who will write a note for you in Hebrew, place it in the Western Wall and say a prayer for you.
If you want to learn how to become a successful seller on Fiverr, there are videos that you can find by searching the Youtube website. Or… you may want to learn the ins and outs by Corey Ferreira, A successful Fiverr seller, who breaks it all down into manageable chunks in his eBook "FIVERR SUCCESS – $4000 a month, 8 Hours a Week a Week"
Corey's prices start at $17 for the eBook only, or you can upgrade to more in-depth options up to $67 for Fiverr Success e-book (PDF)
100 Fiverr Gigs e-book (PDF)
Fiverr Middleman e-book (PDF)
Fiverr Success Video Course (30 lessons, lifetime membership)
Fiverr Success audiobook (MP3)
Insightful Q and A webinar with a Top Rated Seller (recorded, video)
Lifetime PRIORITY e-mail support
60 day money back guarantee
For more information and to order… Click Here!