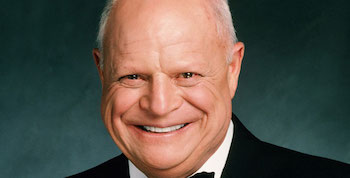 A Don Rickles Encounter
A dear old friend of mine is a party planner based in the Los Angeles area.He sent me out on a gig every once in a while years ago back when I lived in L.A.
One day he called to ask me to help him out for a kids birthday party he had booked. Seems his client hired his company to provide entertainment for the kids in the form of Robby the Robot, a full sized robot with a hidden, builtin two way radio and receiver.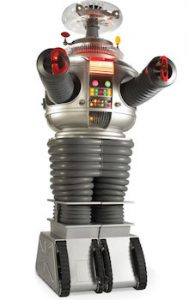 My job was to sit close enough to the robot so I could hear what the kids were saying to it and respond into a wrist radio – no REALLY! Like the kind Dick Tracy wore in the comics. Anything I said would come out of a speaker in the Robby's head and the voice would come out digitized to sound, well… robotic.
The birthday girl was five, so most of her friends were in that age group. Still easily convinced that robots were real and said funny things when you asked them a question.
So, I pull up to the house in a very affluent part of L.A. and went to the door to let the mom know I had arrived and ask her to show me where to set up the robot. I had to sneak it into the back yard before the kids arrived because it was a big surprise.
As I approached the door, a very short elderly couple got to the walkway ahead of me so I waited patiently behind them as they knocked on the door. When the mom opened the door and created the couple, it took me all of a split second to realize, as soon as I caught a glimpse of his profile and heard him say, "How are ya, darling" – that I had been standing behind Mr. and Mrs. Don Rickles.
My little gig suddenly made me a lot more nervous. Mr. and Mrs. Rickles went into the living room and I introduced myself to the hostess, who turned out to be Don's daughter and the birthday girl his granddaughter. Mom showed me where to set up the robot, and I went back to where I had parked, wrestled Robby out of the back of the vehicle and wheeled the big plastic bastard out to the patio where the kids were going to be arriving. I plugged him in, planted myself inconspicuously to the side and spoke into my wrist radio softly to test it out. My voice came out of the robot sounding like a space invader – so all systems go. And with no time to spare. The kids all spotted the robot right away and came over to take turns talking to me (it). And Grandpa and Grandma Rickles sat right next to it on the opposite side from me.
My first thought was, "Oh my GOD! Don Rickles! How in hell am I supposed to compete with a talent like that???" I just knew he would be critical of my banter with the kids. I don't think Ive ever been more self conscious. At least not very often.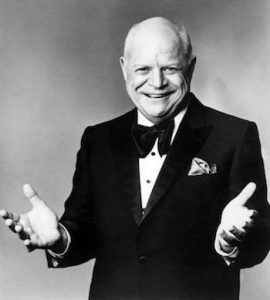 I knew I had done a decent job, however, when a little while later, after I had been successfully entertaining his granddaughter and her friends, I got to talk to him for a little bit. He told me I did a nice job. As I was showing him how the the voice was transmitted through the Dick Tracy style walkie-talkie watch, he turned to his wife, pointed over his shoulder at the robot and with a chuckle, declared, "I can't believe this. Forty years in the business and I have to compete with THIS!"
I thought to myself, "Man, I feel ya!"
Rest in Peace, Don Rickles. I'm glad I got to share the patio with you.