California, Here We Come – Pt. 6
So, just to recap, shortly after I left New Mexico, I picked up two hitchhikers en route to Los Angeles and up until now, the weather all the way from Philly through to Arizona was like the frozen Tundra. In fact, before leaving on tis excursion, I had hoped to see the Grand Canyon before entering California and the the detour up to Miller, Arizona fro the road we were on was only about a 40 minute drive. But, the road was closed and the highway slippery, and we just wanted to get through this icy highway already. Which we finally did. I don't remember which one of us was driving. But I do remember almost as soon as we got within 30 minutes of the California border, the ice had become no more than a puddle we were driving through. The sun was blazing and it was about 8 or 9 AM. We were about to cross into Blythe, California.
Now the feeling was a lot like that feeling you get when you watch that old episode of I Love Lucy – except we were entering Southern California through the desert; they were entering San Francisco on the Golden Gate Bridge…
Car Wash
After crossing the border into Blythe, CA we still had about 4 hours of driving before we got to Los Angeles. I had no idea how vast the L.A. basin was, so after Angelo and Lucy (not to be confused with Ricky and Lucy) directed me to their destination, which was in Englewood, they told me how to hop onto the 10 Freeway and go straight into Santa Monica where DJ would be waiting for me on the pier. I'm not sure what I did, but somehow I got turned around and ended up in Studio City (in the San Fernando Valley) at a car wash on Ventura Blvd. This turned out to be quite prophetic because years later, I ended up living right up the street from there.
Anyway, when I got out to find a phone to call DJ and tell him I was lost, I got a good look at the car and realized that fate had brought me to this car wash for a reason. What the hell… the old girl got me this far, the least I could do was to dust her off and give her a nice hot shower, right? I wanted to pull into that Santa Monica Pier parking lot in style in my nice shiny 1966 Mercury Marquis. As it turned out, she cleaned up real purty.
Yes, Virginia, There IS a Santa Monica!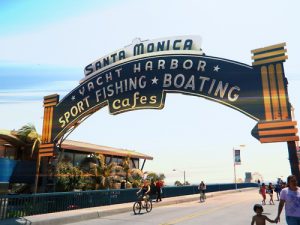 Well, it was inevitable I'd arrive at the Santa Monica Pier eventually. What's amazing is that I got there at about 2 in the afternoon and the sun was still high in the sky and it was 80 degrees. It's like the rest of the trip never happened. There was DJ leaning against the rail at the pier's entrance just sucking in the sunshine and my only thought was, "I'm home!"
"You hungry?" asked Deej,
(Well, gentle readers, WTF do YOU think?!) I didn't have to answer. You never have to answer DJ. He's one of those guys who can go into a 20 minute monologue  right after you say, "Hey DJ". but before you can ask, "How's it going?"  He told me of this little stand on the pier that sold fish and chips and the potato chips were made form scratch. He was hungry, too, but had waited until I got there to eat. I gotta tell you, I was a little skeptical about this meal, they served everything in a big brown bag and you had to shake it to absorb the oil. But, damn if they weren't the most amazing chips I ever had.
This is probably one of the saddest parts of the story. You see, he wasn't kidding. To this day, I have never had potato chips that even came close to these. But, not long after I arrived, they went out of business to make room for more business. There is a silver lining if you're a baby boomer… your doctor wouldn't let you eat there anyway.
Santa Monica Pier
So there I was, my first day in California and it was like the trip across the country never happened. All that snow and ice I had just navigated through, traversed over and negotiated, with my life hanging in the balance, just melted away into memory.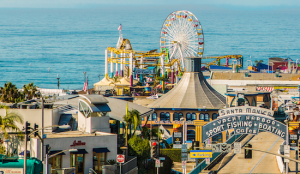 After polishing off the homemade chips, DJ took me on a tour of the Pier from the entrance on the left to the end of the pier where we passed the rail overlooking the parking lot and Pacific Palisades off in the distance, people fishing, The Boathouse Restaurant, more people fishing, another restaurant at the far end of the pier. I don't recall the name. Crossing over to the side facing Ocean Park and Venice Beach, we passed (what else?) yet more people fishing of the side of the pier, then the gift shops, the giant ferris wheel, the arcades and the infamous Carousel, which was featured in just about every movie and TV show ever made in California at one time or another.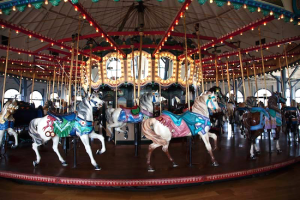 The history of the Santa Monica Pier is extraordinary and colorful. I recently discovered this website which takes you on a tour through time from 1909 to the present where you too can discover the colorful history of the Santa Monica Pier – in glorious black and white (well, except for the last photo).
http://santamonicapier.org/history/
9th and Colorado
As the sun began to set on Santa Monica, it was time to head up Colorado Avenue to 9th street and hang a left – where I parked in front of the little cottage where DJ and his then girlfriend Sue were residing on 9th Street.
As I mentioned previously, the plan was that I would sleep on the floor while I saved enough money to get my own place, which would be in no time, because I had that job waiting up the street at 9th & Wilshire, which was only about a half mile up the street and I would make a lot of money in a very short amount of time. Life could be so sweet on the sunny side of 9th Street!
9th Street. Rhymes with "I'm beat". And I was. It had been a long, glorious day of sunshine and laughter. Santa Monica was everything and more than I expected.  After miles of driving through a half dozen frozen United States, I emerged unscathed in the land of sunshine and streets paved with stars. No more shitty weather for a long, long time. Like the song says, "It never rains in Southern California".
I awoke the next morning to the sound of rain coming down by the bucketful. "When it pours… man, it pours!" Yes, it was the beginning of the end of a drought for California. It was the beginning of the end of all the money I had to my name for me. Good thing I had that job lined up only a few blocks from there at The Great American Food & Beverage Company. Or did I?
NEXT: 9th & Wilshire