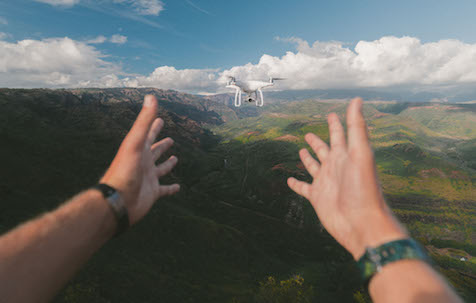 I Don't Mean to Drone On, But…
For me, it started a few weeks ago when I walked into Costco and there were these new drones displayed at the entrance to the store on the right-hand side just past the greeter. Couldn't miss it. The sign said $1299 for the DJI Mavic Pro Platinum Bundle (whatever-the-heck that meant). Well, it was too late; my interest had already been piqued! As as soon as I got home, I searched online for information about drones, particularly the Mavic Pro Platinum Bundle. Truth be told, I was already aware of drones and had considered looking into them sooner, but just hadn't gotten around to it. Yet.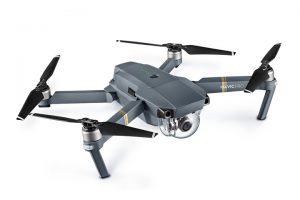 It didn't take very long to discover my next big obsession. Turns out the Mavic Pro  is the most popular model you can get.  It's very much in demand and the popularity of drones in general has been on the upswing for the last few years.
The biggest fans of droning? Baby Boomers – and the elderly, too! In fact, I came across a Youtube video featuring folks in an assisted living community, making and flying their own drones! And here I thought all I had to look forward to was basket weaving. As I scoured article after article and watched Youtube video after video, I came to the conclusion that I must have one!

 

Seniors Make and Fly Their Own Drones!

"Way to go guys and enjoy your assisted living week."
Ashley J of Chasing News
Why a Drone?
The drone, also known as a quadcopter, can be used for many applications, and more uses are being discovered every day. For instance…
An inexpensive drone can be just a toy or hobby. Some people become so good at piloting them they enter drone races and trick flying competitions. Most drones, are equipped with video cameras and are used for aerial photography. The more high-end models have very sophisticated cameras capable of taking Hollywood style cinematic shots in 4k, and in fact are used in many movies. I'll discuss the options in another article. 
Other things a camera-equipped drone can be used for is aerial footage of homes and properties in the real estate business, landscaping, and a view from above for weddings and special occasions on the grounds of a beautiful country club or beach ceremony. They are also used in retirement communities  to find elderly folks who've wandered away from their apartments. Drones can also  be used in search and rescue, because not only can they get live video feeds of people or pets in trouble, they can also carry supplies, such as a lifesaver to a drowning person – much faster than the lifeguard could swim out to them. 
You'll Never Drone Alone
My next impulse was to find a Meetup group. I figured I could learn more about droning by joining finding like-minded people or drone hobbyists who could teach me how to fly and take those outrageous aerial shots like you see in the movies. But alas, it isn't as simple as opening the package, inserting the batteries, pressing a button and watching it fly. With drones comes having to learn a whole new language a whole new world of education, rules and regulations. Fortunately, in my search for people to fly drones with, I found a Meetup group run by a fun, enthusiastic and highly qualified flight instructor named Kim Players (or K-Play), who is extremely adept and informative when it comes to drones, I felt that I had to meet her ASAP. Though there was a meetup scheduled in two weeks, I was so curious about this whole drone thing, I called the number on her website the same day, hoping to meet with her sooner. At the very least, I thought I could at least ask a few questions. Was this a hobby? A career? Could I make any money with a drone. Is it worth the investment to buy one and pay to learn how to fly one? All of these questions as I waited for her to pick up the phone.
No such luck. I got her voicemail and reluctantly left a message. Okay, so I guess I would have to wait a couple weeks for the regularly scheduled meetup after all. According to the web page, there were 11 people going, so that would be cool. Meanwhile, I continued scouring Youtube for videos of drone footage and reviews of the different models of drones on the market. Also, I wanted to get some insight into some of the uses I might derive from a flying camera. Hint: There are some very good and even surprising uses for these babies.
Return Drone Call
A couple hours later, just as I had resigned myself to wait a couple weeks to meet Kim and company, the phone rang and it was her. I guess my eagerness to learn about this new technology had shone through on the voicemail, because her own passion for talking about drones matched my curiosity and she spent a good 45 minutes or so telling me about how she discovered and fell in love with drones, got her commercial license to fly and to teach others, ultimately becoming the First Lady of Drones. She now owns and operates a Drone flight school where she takes people from beginners to pro drone pilot. Her courses include your very own drone as well as a course preparing you to take the FAA test to become a commercial drone pilot.
BTW, this was the Monday before Independence Day, She invite me to come to her office to test-fly a Mavic Pro the day after, which was a Thursday. Turned out to be as fun as the 4th of July fireworks!
All Drones Are Not Created Equal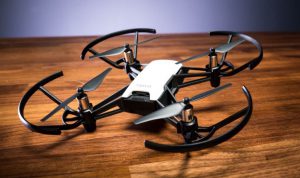 The Master Your Drone headquarters aka Headroom are only about 25 minutes from my where I live, so I found the place quite easily, arriving at noon as we had planned. After greeting Kim with a firm handshake, my eyes were quickly directed to the table full of drones beside her. Drones of all different shapes sizes and colors and camera quality. Some were small and light, practically toys; meant for indoor use. Others larger, heavier, higher quality and precision, made for pro and semi-professional use. They looked like large, futuristic, flying insects! Kim gave me some background about each model pointing out their different features and uses. Then it was time to demonstrate the functionality of these little gizmos. She started with the smallest one. It was a DJI Tello, which sells for $99 on Amazon. Even this inexpensive little sprite was impressive! Kim offered me the controls and I was finally getting to pilot a drone myself for the first time. And no, I didn't crash it into anything. Having previous experience operating video game controllers and the zoom buttons on camcorders, I had no problem adapting to the touch sensitivity of the joy sticks. Of course with  a drone, there two joysticks which function independently but in tandem with each another, each having different assigned tasks. One basically moves the drone backwards or forward and from side to side. The other allows you to spin 360º in either direction. Other combinations give it even more funtionality. It'd all quite fascinating, but more so in the doing than in just reading about it,
Mavic Pro Time
Finally, I had the chance to go outside to a nearby field to experience the more sophisticated drone which was I was looking forward to flying the most… the Mavic Pro. Now, there are bigger drones, smaller ones, some more sophisticated, others with better cameras or features that offered cooler special fx, but for the money, there isn't a better looking, higher quality, multifunctional, practical drone that can be used by hobbyists and pros for commercial use alike as the DJI Mavic Pro, (or for slightly more, the Mavic Pro Platinum). You can get bundles ranging from $1099 – $1699, depending on the accessories that come in the respective bundle.
A Mavic Pro is the the best all  around drone for its price, size, weight, and features and benefits which would take me too long to go into for the purpose of this article, but I will address in a future article or video. Speaking of video.. if you search for "Mavic Pro" on Youtube, you'll find a massive amount of information on this amazing little flying machine.
A Senior Dronement
Due to the discovery of more and more commercial uses for drones, the demand for drones and people who can pilot them professionally, is expected to grow exponentially.  They currently aid in everything from search and rescue, real estate sales, as a marketing tool for landscapers, wedding photography, inspections of towers and other tall structures, and a growing list of new uses every day. 
With more and more people entering retirement, there will be more and more seniors and baby boomers looking for a new hobby or better yet, a new opportunity to continue to earn doing something most can achieve without any focus on age. If you are relatively healthy an in decent shape, you can learn and earn in this burgeoning and fascinating fiield. Whether you want to explore a new career opportunity or find new ways to enhance your creative side through aerial photography, this may very well be what you've been looking for.
Getting a Good Drone-ucation
Anyone can learn to use a drone by simply buying one, taking it outside and playing with it until it either…
A. crashes into the side of a house
B. a tree
C. a swimming pool or other body of water.
D. You may even fly it into someone's head if you're not careful.
E. You may even encounter a neighbor who calls the cops because they think you're spying on them,
F. Worse yet, there are some reports of drones being having been shot down by people who consider them too noisy or an invasion of privacy.
G. …and other things you may not want to learn the hard way. If you think there's a lot to learn now, just wait another few years when there are even more drones to avoid a mid-air collision with.
So, where does one go to learn all the ropes about operating one of these flying mechanical marvels, exploding in popularity?  If you intend to make money or derive any income from your drone, you'll need to attain what's known as the FAA Part 107 certificate.  This requires many hours of study. There's a lot  to know about flight, wind, weather, maps airspace and a lot of acronyms you need to become familiar with. You may also want to  get some hands on pilot training to avoid damaging or losing your drone the first day you unpack it. There are several options, online and offline where you can acquire the knowledge to operate a drone and/or become a certified drone operator.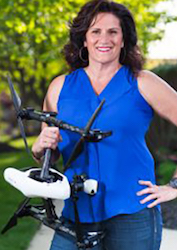 I've been getting some of my drone-ucation from watching Youtube videos. However  I've also enrolled in Kim's  Master Your Drone training. BTW – she also has a Facebook group as well as a Meetup for people who like to get together in the real world to fly their drones, hang out and maybe even do a little bit of networking. If you live in the Philadelphia, PA area, look her up. Please mention Stuff For Baby Boomers when you talk to her. 
I'll be sharing more later in another post as well as uploading some videos about this addicting hobby.  Subscribe to Stuff for Baby Boomers to get updates about new articles and videos!


Don't forget to leave any questions or suggestions in the comment section below!