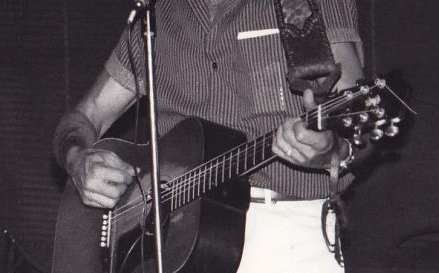 My Great American Journey – My Audition
Have you ever been a bus person or food server in a busy restaurant? If not, have you ever simply observed the ballet that goes on in a restaurant during the peak hours – Breakfast, lunch or dinner? The first thing you'll notice while you wait for your table is that shortly after it breaks, that is, vacated… a the busboys swoop in and quickly remove all the empty plates, glasses, condiments, coffee cups, wads of paper and tosse them into a plastic bus bin. They immediately return with silverware which they temporarily set down out of the way, wipe the table with a wet cloth, then wipe it again with a dry cloth; if necessary, wipe the seats, pick up sugar wrappers or sweep under the table, set the silverware or place setting in front of each seat, and disperse to another part of the room to repeat the routine at another table.
Then the host or hostess, menus in hand says to the head of a party waiting  to be seated, "Follow me". At which  time a group of people that have  been waiting an inordinate amount of time, dutifully follow said host to the table where  he or she sets out the menus and the group sits down to wait for a server or busboy to bring water or take orders for cocktails, or beverages. At some point, the waiter returns and takes the food orders. Some order appetizers, others order meal with salad included so they forgo appetizers. Some order only appetizers for dinner. And the challenge for a good waitperson is to coordinate the service so that everyone at the table is served something at the same time a s everyone else, so that no one is sitting there  watching the rest of their group eating sitting there without a plate in front of them. Not so easy.
Now, take that same busy restaurant, not unlike any other busy restaurant; but just for shits and giggles, let's add one more little thing to your job description. You have to be an entertainer. And… you have to audition for the opportunity to play your guitar, or tickle the ivories of the house piano, or tell your jokes, or do your impersonations or whatever America's-Got-Talent-kind-of-thing that you do, while bussing, waiting tables, seating the customers or tending the bar – simultaneously.
As I sat on a stool at the corner of the Great American Food & Beverage Company bar on  this particular  Friday  night, I began to grow more and more terrified at the thought of getting a job here. The place was packed. There was a two hour wait for a table. People were crammed in like cattle in the entrance way and we had passed at least twenty people mulling around in the parking lot, while even more cars were arriving, drivers looking for a place to park.
---
DJ was working, and I had just come in to hang out. The plan was, I was just going to plop myself onto a bar stool, have a couple beers, observe the mechanisms of the restaurant, enjoy the music, and at some point, DJ would introduce me to Greg, the manager, and Greg would tell me how much DJ had talked about me and offer me the job on the spot! So, shortly after plopping on that bar stool and observing the insanity of this place, I seriously began to question my motives for being here and immediately began to think seriously about driving back to Philadelphia and going to college like normal people do. It didn't help when Greg plopped himself down on the stool beside me and introduced himself.
"Hi, I'm Greg, the manager. I don't know what DJ told you, but I'm not really looking for anyone right now. You can try back in about a month. We have auditions on Thursdays. I have to go. Nice meeting you".
Me: Gulp.
And then he got up, went over to the piano and launched into "Sea Cruise". Just as he got to the second chorus, another waiter jumped on the piano bench and took over the keys while Greg grabbed his saxophone in time for the instrumental. By the time the instrumental was over, another 3 waiters and/or busboys had found time to join in the harmonies on the final chorus. When the song ended, the room burst into applause and the employees/rock stars went their separate ways to pick up orders, wipe tables, refill water glasses and coffee cups, or sneak outside for a smoke.
I was still too bummed out to really appreciate the performance, and quite frankly, it made me feel even more intimidated. And then DJ whizzed by on the way to the kitchen and asked, "What did Greg say?". So I what he said; that there was no job opening and I didn't know what I should do. Then DJ had to excuse himself to go to the kitchen because he was very in the weeds at the moment and had to get some salads out to a table that had just ordered dinner. He disappeared, then reappeared a few minutes later to distribute the salads to his table, a party of four, about 8 feet in front of me. As soon as he finished serving the sales, DJ came back to the bar where I was still sitting, feeling dejected and utterly dismayed. He told me to go pick up his guitar next to the piano and entertain the people at the table to which he had just served the salads.
"No, that's okay" I told him. "I had a feeling this would happen. I'll just come back when they have the auditions. I'll just find the nearest Kinney Shoe Store and get a part time job there to hold me over". I knew there was one on Lincoln Boulevard in Venice.
DJ was having none of my self pity. Go take my guitar right now and play for that table. I have two more tables and you'd be doing me a favor"
"But I don't work here"
"That's okay. Just do it."
"Are you sure?"",  I asked.
"Trust me" answered DJ. That's usually not a good thing to hear in L.A.
I sat there for another minute paralyzed with fear,when  DJ walked by again, this time with his guitar, which he handed me and then announced to the people at that table that his "good friend Hal, from Philly" was going to play a couple songs for them. They looked over at me and gave me a polite applause and suddenly, this impromptu "audition" was set in motion. I couldn't back out now, so I got up, strapped on the guitar, walked over to the table and introduced myself. Four total strangers – two couples – were looking straight at me, chewing on their salads and waiting to be entertained. I could feel a lot of other eyes on me from other parts of the room.  The moment seemed surreal to me.
I think I played Nashville Cats. It was a safe song. I knew all the words, and had practiced that little guitar solo at the end so I could execute it perfectly every time. As I hit the final note, I received generous applause from the folks at the table and, surprisingly, from a few of the surrounding tables.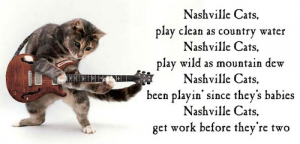 DJ was standing right behind me when I finished. "Do another one"
"Nah" I wasn't quite comfortable, but not beyond being talked into an encore. But when a whole bunch of the diners started goading me on, I found myself relaxing a bit. Besides, I was already warmed up and still holding the guitar
I began to hit the body of the guitar with the heel of my hand, like a kick drum, slow and rhythmically.
BOMP – BOMP-BOMP,
BOMP – BOMP-BOMP
Back in the day, I had a killer falsetto, and as I strummed the opening chord to the Four Season's "Rag Doll"  (by Bob Crewe, Bob Gaudio) I started singing in my best Frankie Valli as the room slowly grew quieter:
"Ooooooooo
OoooowoooowooooWoooo
OoooowoooowoooWooowoooowoooOooooOoooooo
Aaaaaaaaah, AaaaAaaaAaaaaAaaaaaaa"
Hand me down
When she was just a kid, her clothes were hand-me-downs
Hand-me-down
They always laughed at her, when she came into town

Called her – Rag Doll

Little – Rag Doll
Such a pretty face should be dressed in lace

Ooh, ooh ooh ooh ooh
Ooh ooh ooh ooh ooh ooh
(Sad Rag Doll)
I'd change her sad rags in – to glad rags If I could (if I could)
My folks won't let me 'cause they say that she's no good

She's a – Rag Doll
Such a – Rag Doll

Though I love her so
I can't let her know
Ooh, ooh ooh ooh ooh
Ooh ooh ooh ooh ooh ooh
AaaaAaaaaaaaaa AahAaaAaaaAaaaAahAaahhh… Rag Doll, ooh
I love you just the way you arrrrrrrrrrr!!!!"
The place went nuts. I had never felt such a feeling of gratification of this magnitude. A roomful of strangers; me, a guitar and not only my voice, but a bunch of the waiters had come over to harmonize with me. I'm sure we sounded like a pack of baying coyotes, but it just felt so good! And this wild applause – people clapping, and eating and cheering, and..
And then it was over. I returned the guitar to DJ and headed back to my little corner of the bar and plopped back down on the barstool. I don't think thirty seconds had passed when I heard Greg's voice from behind.
"Can you start Monday?"
Thought You Might Enjoy the Real Thing
---
EPILOGUE
This is the conclusion of Part 1 of My Great American Journey. However, this was just the beginning. Once I began working at the GA, more adventures unfolded. I worked and met with some famous people, and honed my chops as a performer along the way. Today, I'm still performing and I've kept in touch with some of the people I worked with at the Great American F&B Company and later at Poppy's Star.
I encountered lots of folks through many years performing there. I also hosted open mics and showcases throughout the Los Angeles area for about ten years, in several venues including: The Chimneysweep Lounge in Sherman Oaks, Highland Grounds in Hollywood as an occasional sub, Acoustic Soup at the Bookgrinders in Van Nuys (later moved to the Hothouse when a little old lady form Pasadena mistook her gas pedal for the break and instantly put Bookgrinders out of business), Rusty's Surf Ranch on the Santa Monica Pier, the Oyster House in Studio City and the Hot House in North Hollywood.
Though I personally have enough stories of my own to fill a podcast for years, my passion has always been just being a part of the scene. I love performing as much as I enjoy hosting. There are many stories out there, far more interesting than my own and they need to be told, dammit! That's why now, I am happy to say, I have a new podcast…
Tales of the Road Warriors is a podcast featuring conversations with fellow musicians and other people I've met along this journey. We all have some great stories to tell, and instead of writing it all here, I thought it would be kinda cool to give you a way to "meet" some of these people for yourself. Every Thursday, I talk with someone who's got some interesting stories to tell. So, please check out the website where you can listen to the podcast at your leisure!