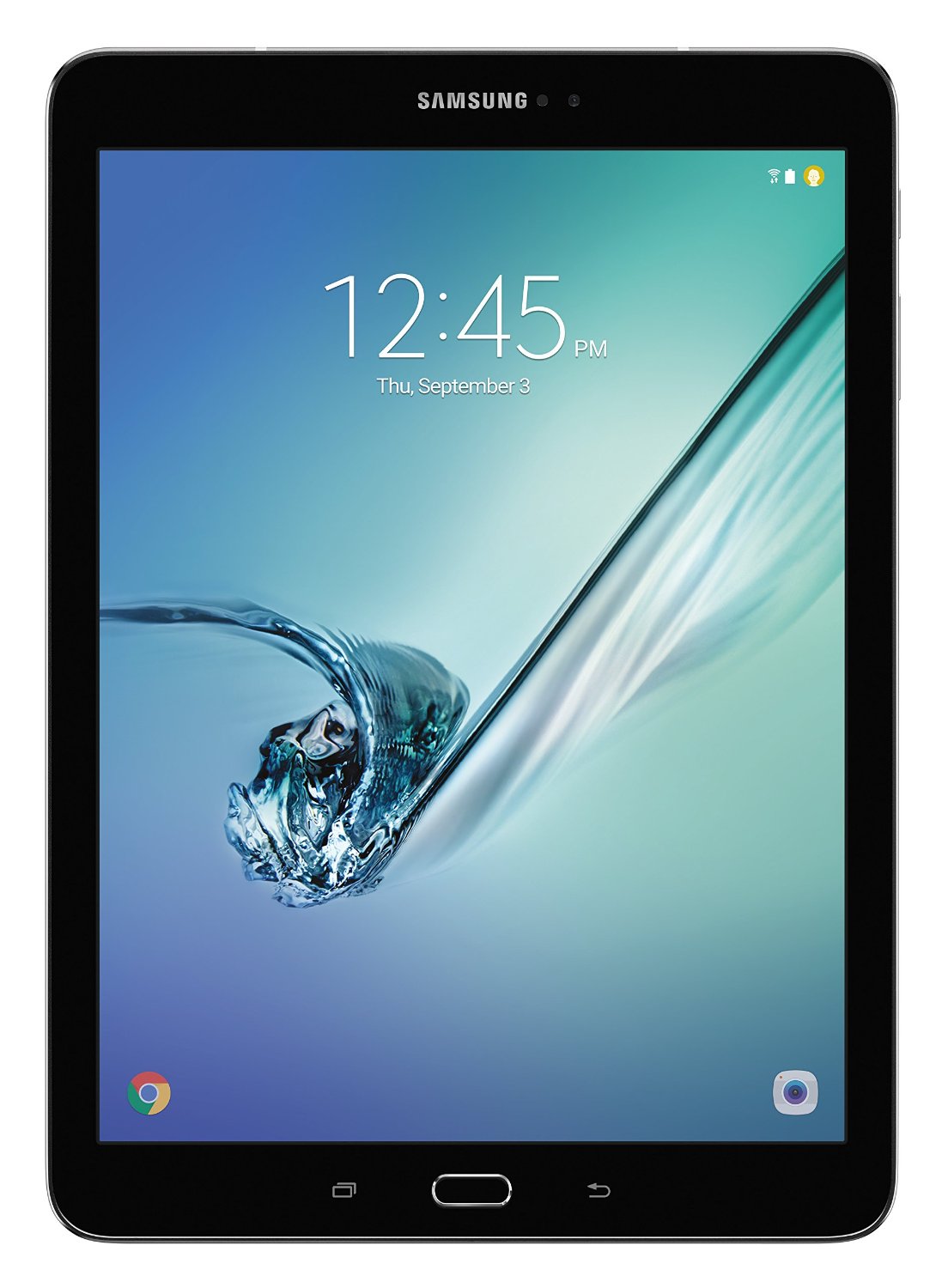 Galaxy Tab A and S2 Tablet Review
Senior Moment
Let me state for the record, "You don't have to be all that old to have a senior moment." In fact, I think i probably started having senior moments in my 20's. Or maybe I've just always been slightly absent minded. You know what I'm talking about… those times like when you can't find your car key because you've been holding them in you hand the whole time you've been looking for them, looking for your sunglasses because you're already wearing them or they're sitting on top of your head, or you're making plans to meet your friend, but and you tell them your on your way just as soon as you find your phone – while you're talking on it.
To describe my last senior moment, I need to take you into my life as a one-man-band. Over the years, I've played a lot of private parties, and quite often the person who hired me asks if I know this song or that song and of course, if the answer is "no", I always offer to learn it for them. Eventually, I have had to learn many more lyrics than I could possibly commit to memory, so I had accumulated four or five thick binders with pages upon pages of lyrics I printed out. If you've ever carried around a few thick library books, you know how heavy that is. This in addition to my instruments, PA speakers, mixers, mics, cords and miscellaneous gear, I have lug to every gig.
Then the tablets came along, iPad, Android, Nooks and Kindles Tablets. All of the lyrics could be downloaded and carried everywhere on an 8, 9 or 10 inch screen weighing just one pound. N longer would I have to remember which binder contained the lyrics to what song, or worry about the wind blowing the page over mid-song, or the pages wearing out and falling out while the binders were gradually falling apart.
Galaxy Tab A  or S2 / OnStage Cover/Stand Attachment
So finally, after years of thinking about it, I finally said the "F" word, followed by "it" – and purchased a Samsung Galaxy Tab A. It has a 9.7" screen, 32 gigs of space (that's a fair amount of storage), WiFi, an 8 megapixel camera, among other things. There are a lot of amazing aps available for it through the Google Store. BTW ,the model I have (the Tab A) has been superceded by the S2 which is priced the same, but even better features…
Android 6.0, Marshmallow OS, 9.7″ 2048×1536 (QXGA) Super AMOLED

Quad 1.9GHz + Quad 1.3GHz, Octacore application processor

29 GB Flash Memory, 3 GB RAM Memory
I downloaded an app called Lyric Pad for $4.95 which allows me to search for lyrics and add them to my tablet, adjust the scrolling speed, separate my lyrics by band, or by genre, or organize them any way I would like. Never will I have to remember which heavy binder to lift up and sift through to find a song. Like one time recently when someone requested a tune and after about 3 minutes of looking for it, another audience member yell, "Why don't you put them in alphabetical order?!"
I replied, "They ARE in alphabetical order! I think I'm looking for it in the wrong book."
Now with my remarkable new Galaxy Tab A… No more "oops, wrong book". No more wasting time.
So I after loading all my songs into Lyric Pad, and practicing all day, I realized the case that it came with was practically useless for the gig. If I proper it up on my music stand without a case, it risked sliding or falling of if a guest, or even I bumped into it or knocked it over. So, then began my quest to find a perfect case that would allow me to keep my new tablet fully protected while being able to mount it somehow so I could read the lyrics. My first gig was only a few days away.
I searched online for solutions to mount it or prop it up, but, you know how it is when you shop online… you just really can't tell from the pictures what your getting, and I didn't really have time to pay a lot of money just to order the wrong thing, assuming I could get it in time. So I jammed out of the house and went to the King of Prussia Mall.
Now, the King of Prussia Mall is the 2nd largest mall in the United States. They had NOTHING! The closest I found to a decent case was at Best Buy which was not really made for a musician, but it was perfect in every other way, and I would heartily recommend it for a businessperson. It's made by Belkin and I'll review it a bit later. Anyway, I decide to go home and attempt to find a musicians tablet online one more time.
On the way home, there's a music store I pass all the time. So, I figured, "ahh, what the heck…", can't hurt to stop and ask someone inside. So I pulled in and asked one of the salesman if they carried any tablet cases for musicians like the kind I'd seen a few entertainers use. He told me that he thought they had a few tablet cases that might do the trick and escorted me to the pro audio section. And sure enough – there it was; exactly what I was looking for! It was a case made specifically for my size tablet – with an attachment that has one end that screws into the back of the case, and the other end attaches to a music or mic stand, allowing you to pivot it an any direction. It's absolutely perfect. It's called the by On Stage Tablet Case with U-Mount Universal System. And though the name makes sounds expensive, it was only about 40 bucks! That's right -$39.99. I can't recommend this case highly enough for a working musician or professional speaker. It's in a handsome, faux leather case and the pad fits snugly inside. Although it doesn't have a cut out for the camera lens on the back, with a few little slices using an X-acto knife, you could do that yourself if you really wanted.
Well, I  got to try it out two days later and everything went smooth as can be. I had a gig the next evening and was as confident as can be that I had made the right decision getting this new tablet and case with the built-in mounting system. I'll never have to lug those hefty binders again! Well – the next afternoon, as I'm setting up, I realize with horror that I had left the new tablet at home. I had brought it in the house after the previous night's gig and it suddenly dawned on my that not only had I forgotten to bring it to this current gig; I hadn't even plugged it in to recharge it. Fortunately, I forgot I wasn't going to be lugging those song books around anymore, too. So I still had that option available. So, that senior moment taught me that I had to learn some new habits. As I write this, my tablet is on the charger and I now know  I must remember to keep it charged and be sure it's on my checklist of things to do before each gig!
Take another Tablet and Call Me in the Morning
---
Other options
If you are a die-hard Apple user, then any tablet running the Windows or Android systems simply will not win you over. And, as a long time Mac Evangelist, that is quite understandable. However, I'm only a strict Apple guy when it comes to desk top computers and laptops. I love apple products and in fact, I do most of my work (music, video, graphics and websites) on a Macbook Pro. However, I love the Android tablets and phones, and as long as you have a Google account, you can transfer your contacts, calendars and documents across all platforms. So, I get to experience the best of both worlds between my Mac, my pad and my phone. However, I should point out that one thing the iPads have in common with all the other Apple products – legendary customer service – hence, the higher prices. So if you want the Godfather of Pads and Tabs… this is the best way to go. Also, if you have an iPhone, you'll be more comfortable with the iPad OS X.
Amazon Kindle
If you'd be happy just to have an electronic reader, the Amazon Kindle is blazingly fast and efficient, easy on the eyes and the most economical. There are now 4 models to choose from:
NEW – Kindle starting at $79.99
Kindle Paperwhite starting at $119.99 (Most popular model – see banner below)
Kindle Voyage starting at $199.99
Kindle Oasis starting at $289.99

Scroll down to see the chart on any Kindle page for comparison of all the features

Accessories:
The Belkin