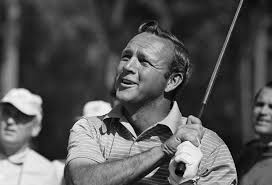 I was never really into golf. But I've always known that Arnold Palmer was on the perimeter of my life. I caught a glimpse of him now and then while flipping through the channels on the TV if a golf tourney was in progress. Or occasionally during an interview which I wasn't even halfway paying any attention. Even when I worked at the Sugar Mill in Reseda, California.
They used to say "you're not a real bartender until Bob Worth fires you". Bob Worth was the owner of the Sugar Mill, a popular cocktail  lounge in Reseda, CA in the heart of the San Fernando Valley. Bob Worth was an older, handsome (you might say he looked 'distinguished') fella – kind of reminded me of Hugh Hefner. Very chiseled features and probably just as eccentric as Hef.
The Sugar Mill itself was a very popular spot. In fact, It still is, as of this writing. I worked there for about three months during the 80's, right before my ten year stint began at Jerry's Famous Deli. At night, it's a piano bar with a very ecclectic crowd of all ages. During the day, however, back when I was there – the clientele consisted primarily of golfers. Extreme. Avid. Golfers. And I knew nothing about golf.
Bob Worth warned me, He said I better learn about golf fast because the regulars didn't really talk about much else. About a mile up the road across Ventura Boulevard was Raymar Country Club. So, The Sugar Mill was basically their 19th hole. And Arnold Palmer was their hero. So, he became a cult hero to me through osmosis. Hell, they even named a non-alcoholic drink after him… the Arnold Palmer, which is iced tea and lemonade.
Well, like I said, I only lasted at the Sugar Mill for 3 months. Bob Worth fired me. Not because i didn't know  golf – I was actually getting along with the regulars pretty well. Bob had his eye on another bartender at the steak house up the street. This bartender had been working the bouleverd for years and was almost as legendary a bartender as Arnold was as a golfer.
His name was Artie, but everyone called him "The Ripper". He used to some do crazy things, say, if someone at the bar ordered a round for the house, Ripper might blurt out, "What time is it?"
If it was 3:30, Ripper would charge $3.30 for the entire round. I hadn't yet developed those kind of chops yet, so off I went to another bar to learn my skills.
Now you may be wondering, what ANY of this has to do with Arnold Palmer. Well, for what it's worth, upon hearing that he passed recently, those days at the Sugar Mill just came back to me. What a bad time to quit smoking.
So here's the thing… I felt compelled to visit the Arnold Palmer website. And I read all about his charity there. It's called Arnie's Army. In the world of golf, Arnold was the King and he left quite an impressive legacy. It would behoove you to pay a visit. Below is a link to his website.
It all began in the 1960's when Arnold Palmer's go for broke style of golf bolstered a legion of fans who were coined by the press as Arnie's Army. Today, Arnie's Army Charitable Foundation provides financial support to institutions and organizations that help children, youth, families, the environment and the communities in which we live.Share your story of Arnie and join Arnie's Army to ensure a brighter and healthier future for all.
Source: Arnie's Army
Please recount your memories of Arnold Palmer in the comment section below:
Please recount your memories of Arnold Palmer in the comment section below: