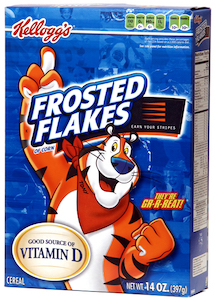 Grrrrrrreat News?
Depends on your POV I guess… Tony the "Comeback" Tiger is about to get a reboot as a result of sagging sales (perhaps due to sugar's bad rap?)
According to NorthJersey.com, Kellogg is targeting the nostalgia of dads who they apparently hope, in turn, will pass onto their tweens and teens.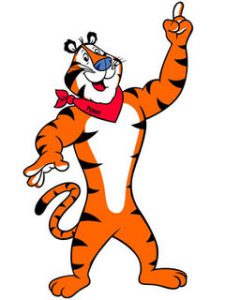 "The largest U.S. cereal maker is rolling out a new campaign for Frosted Flakes aimed directly at fathers, rather than the moms that typically make shopping decisions. The company also is targeting "tweens," a group it pegs at 9 to 14, which might not be familiar with its longtime mascot."
Source:Business – NorthJersey.com
Although I'm personally a Rice Crispies kinda guy, I look forward to seeing ol' Tony the Tiger get an upgrade for a new generation to have something to Tweet about. BTW… the new slogan is also getting a makeover. From now on it's "Let Your Gr-r-reat Out". Ummm, yeah. I still like the old one better. Sequels are rarely as good as the original.
Welcome back ,Tony.
Please leave any and all relevant comments below… thanks!