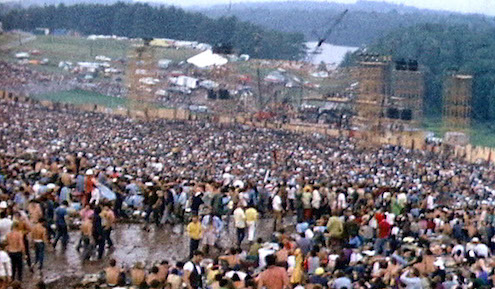 Philadelphia, PA
The Spectrum
Although my initiation into the music at the inception of my coming-of-age was the Beatles on the Ed Sullivan Show at the tender and impressionable age of 11, I didn't attend my first rock concert until I was 15. I went with my Cousin Michael to see Cream at the Spectrum in Philadelphia on November 1st, 1968. That show was such a milestone in my life, because few have ever, before or since, possessed and displayed the amount raw talent and showmanship as the combination of Eric Clapton, Jack Bruce and Ginger Baker did on that amazing and memorable evening. For years, I compared all concerts I attended throughout the 60s and 70s with that first one.
Other favorites of mine included the Moody Blues. That was also at the Philadelphia spectrum. The group Spirit, featuring Ed Cassidy on drums and his son, super guitarist Randy California who died much too young.  I also saw another guitar slinger there, who died way before his time… Jimi Hendrix. He OD'd two weeks after the performance that I attended.
The Electric Factory
The venue here in Philly that the majority of us probably frequented the most, was a large converted warehouse featuring a multimillion dollar lighting makeover that included black lights (to enhance the day glo painted murals), strobe lights, and private booths in the back with big chairs in which you could sit and have your body decorated in multicolored day glo paint. I still remember going with a group of friends to see The Who perform the entire rock opera, TOMMY for the first time in the U.S.  They most definitely lived up to their slogan, "world's loudest band". There were walls of 30 WEM extension speakers on each side of the stage (I counted them) and some Marshall stacks flanking Pete and John. Keith Moon was flailing around spastically on the drums. In fact, my friends and I were only several feet away from the stage and we were constantly spritzed by Keith's projectile sweat flying off his hair.  This is where I'm supposed to say I never washed my self after that. But, no worries. I did.
As we exited the concert, walking down the sidewalk toward the parking lot, my friend Jeff's eyes were glazed over and he just kept repeating the phrase, "Don't step on Pete Townshend…. Don't step on Pete Townshend…." over and over again. I have no clue what he had ingested or smoked that evening.
I attended three more Who concerts there on two other occasions before we lost Keith.
Other concerts at the Electric Factory that stand out in my memory: The Byrds featuring Jim McGuinn, Neil Young and Crazy Horse.) Neil opened the show with an acoustic set for the first hour and then brought out the full band to blow the roof off the place).
The Atlantic City Pop Festival
In 1969, during the infamous Summer of Love, I got tickets to a big 3-day outdoor rock concert at the Atlantic City Racetrack. Just about every band that was a must see was being advertised as part of the line-up.
The Atlantic City Pop Festival took place in 1969 on August 1st, 2nd and 3rd at the Atlantic City Race Track in New Jersey. Of course I didn't know it at the time, but two weeks later, a concert in upstate New York, which came to be known as Woodstock, would overshadow AC Pop Festival. But I must say in all honesty, that I think those of us who were at the Atlantic City Pop Festival got the better deal, even if we didn't get in for free. We got a lot of the same bands and didn't get rained on, covered with mud, and the restrooms were well maintained. The lineup included many of the same bands that played Woodstock, and quite a few that didn't. I don't want to reinvent the wheel, so if you want to learn more about this one, I would suggest taking a detour to Jeff Tamarkin's site "Best Classic Bands". Jeff has dedicated a whole page to this lesser known music festival titled "The Great Lost Rock Festival of 1969"
Woodstock
Okay, so two weeks later, Woodstock happened. You didn't have to be there physically to know by now that it wasn't just another music festival. There are entire websites, probably even college courses dedicated to the iconic and enigmatic event, so I won't go into too much detail about it in this post. But we shall cover Woodstock in more detail on another page. Hell – it's more than a page, it was a chapter in history.
There were other venues, too in and around Philly where I saw some amazing music and musicians that influenced my own development as a musician myself. I'll break it down into as many separate blog posts as it takes. I just realized how vast a subject this is. And I'm not even close to the 70's yet. In retrospect, I've had a hell of a ride!
If you are from another city or country, please share your memories  of the bands you saw and the venues and festival where you had a memorable experience. I love to live vicariously through others! Hey, don't we all?
---
Some of the best archives available featuring music, TV and movies from the 50s, 60s, 70s are the Time Life CD and DVD collections, including Classic Rock, Treasury of Folk, 60's Music Revolution, Pop Goes the 70s, The British Invasion, The Motown Era, and many, many more.
Get The Heart of Classic Rock Collection at Time Life! The songs, the sounds & the stars of classic rock in one album. Click here!
Check back for updates. Better yet – fill in the Contact Form on the right and get on the list!