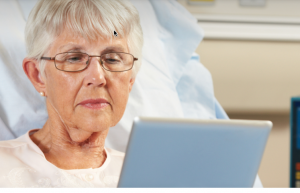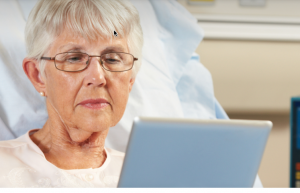 When I was hospitalized a few years ago due to colorectal cancer, one of the first things the hospital did was set me up with online access to my medical records, a newsletter for cancer patients and survivors and other resources such as online support groups for cancer survivors. The hospital where I was treated, St. Mary's in Langhorne, PA is one of the most progressive hospitals in the country.
These days, most, if not all hospitals, clinics  and cancer treatment centers have  an online presence, which patients are encouraged to log into. IMHO, being proactive about your condition and overall health, goes a long way to beating wining  the battle for the cure. Nevertheless, only about a quarter of the senior patients are taking advantage of technology regarding their health maintenance. In addition to websites, there is a wide variety of apps and digital gadgets for just about every malady known to man…
According to Internet Health Management (internethealthmanagement.com)…

Today about 25% of seniors are using digital healthcare web sites and tools compared with about 21% three years ago, according to Levine's survey of about 7,100 elderly consumers that take part in the federal government's annual National Health and Aging Trends Study, a representative survey of Medicare beneficiaries 65 years and older.

76% of seniors used cell phones and 64% used computers but only 43% used the internet, only 40% did any e-mail or texting and fewer than 20% used internet banking, internet shopping or social network sites, Levine says. But even fewer seniors used digital healthcare sites and tools. "Only 16% obtained health information; 8% filled prescriptions; 7% percent contacted clinicians; and 5% handled insurance online," he says.
Some of the most recent innovations in medicine include the controversial e-cigarette (AKA vapes). Vaping is used by many baby boomers who have tried everything else to quit smoking and have found this method helps wean them off of real cigarettes.
Other digital tech used to maintain a healthy lifestyle includes weight loss apps, state of the art exercise equipment, digital monitors that are attached to your arm, your wrist, built into your shoe, etc.
Now that more baby boomers are reaching retirement age and finding more time to explore the World Wide Web and other technological advancements, the number of seniors taking advantage of these resources are bound to increase. It's just surprising that, for as long as a lot of this tech has been available alreadym that more baby boomers have not jumped on the bandwagon. But as  more  do discover  what's out there, I'm here to help you learn about some of the various options to choose from.