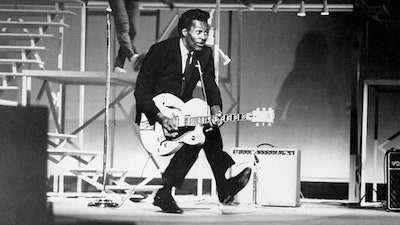 The Late, Great Chuck Berry, Dead at 90
Since Chuck Berry's licks have been ripped off by other artist since the day he hit the public eye, I thought it only fitting to steal the eulogy from my own Facebook page:
Chuck Berry, you have been worshipped, imitated, irritated, you've sold out shows, been applauded, lauded, praised, ripped off, and toured the world. You are an American original, with a one of a kind – often copied style of guitar playing. But somehow, I think you would want the world to smile from ear to ear when they thing of you, so the song I've chosen to post on my status is not Maybeline, Not Johnny B Goode, but one of your sillier moments. Rest in Mirth…
My Ding-A-Ling - Chuck Berry
A friend of mine always says, A life well lived is a life well remembered".  Chuck Berry lived 90 long years, and though to be sure, he's had his trials and tribulations, Mr. Berry's was indeed a life well lived.
According to the Associated Press: "Emergency responders summoned to Berry's residence by his caretaker about 12:40 p.m. found him unresponsive, police in Missouri's St. Charles County said in a statement. Attempts to revive Berry failed, and he was pronounced dead shortly before 1:30 p.m.", police said.
Like many others, I probably first saw Chuck Berry  the same way many of us first saw the Beatles (he was a major influence on John, Paul, George and Ringo as well) – tearing up the sage on the Ed Sullivan Show. As a budding musician, I tried unsuccessfully for months, to perfect that infamous "frontwards and backwards duckwalk" that made me want to be a rockstar at the age of 12.  In fact , the only white male I ever saw get it right was when I saw Peter Tork of the monkees do it during a solo performance in a restaurant in Santa Monica California in 1979. 
To this day, people of all ages are still dancing and singing along with all of his greatest hits including Johnny B Goode, Mabellene, Roll Over Beethoven and many others. For the full story, click below to read the David Browne article in Rolling Stone online…
"…over the last five decades Berry's songs have been covered by an astounding array of artists: from the Beatles, Rolling Stones, the Beach Boys, the Kinks, the Doors and the Grateful Dead to James Taylor, Peter Tosh, Judas Priest, Dwight Yoakam, Phish, and Sex Pistols. As Richards said when inducting Berry into the Rock & Roll Hall of Fame in 1987, "I've stolen every lick he ever played."
Source: Chuck Berry, Rock & Roll Innovator, Dead at 90 – Rolling Stone
Please leave your thoughts and memories about Chuck Berry in the comment section.
---