Wealthy Affiliate University Review by Hal A. Cohen
While recuperating from cancer surgery, chemo and radiation therapy throughout most of 2015, it became clear that I was going to have to find a source of income that wouldn't entail working long hours on my feet five days in  a row or lugging my heavy music equipment around. I also turned 63 and was forced to take an early retirement which means, not a lot of income and me without a nest egg.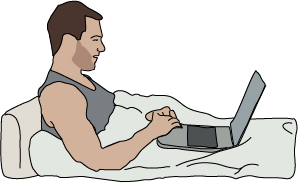 So I spent hours on end looking into online businesses, affiliate marketing and other means of passive and residual income that I could earn from home. During my research, I found out there are many scam artists out there waiting to pounce in guys like me and suck out what little income we had left to work with. But with that discovery, I also drilled down deep enough to find out who the good guys ar. You know, the guys with the white hats!
The first place I would confidently recommend you start if you want to learn how to start an online business is with affiliate marketing. This is where you create a website based on any niche that you are interested in, have a yen for, love, or are passionate about. 


Wealthy Affiliate University is completely free to join, so it costs nothing to check out. WA is an online community of ethical online business folk and affiliate marketers with all levels of experience who help each other learn the ropes of making money through affiliate marketing and other means of earning passive income and residual income.
There is also excellent certification training. They teach you how to choose a niche, research your niche,  how to build a website from the ground up, monetize it, optimize it for the search engines and get yourself easily found in the search engines such as Google, Yahoo, and Bing. They not only provide you with the most in-depth training i have found anywhere, but they also provide you with two free websites and free tools to help you with SEO (Search Engine Optimization) and keywords. There is a free keyword tool provided, or you can subscribe to a more sophisticated online app developed by the founders, Kyle and Carson. It's called Jaaxy. You can get a free Jaaxy Account here.
As a basic member of Wealthy Affiliate, you get everything you need to build two websites and monetize them without ever paying a penny. However, at some point, you may choose to upgrade to their premium membership ($49/month). This is completely optional. However, even though you can do very well on your own with their free membership, the benefits of going premium will soon become apparent.
I have found that if you took away all of the tbells and whistles such as the Certification training, the Affiliate Bootcamp, the Live Chat, the blogs, the Q and A, the video training by Jay Neill, even their own affiliate program… it would still be worth it for the 50 WordPress websites and hosting ALONE! They offer free SSL (secure socket layer). Some hosting companies charge 300 bucks a year just for THAT. As a premium member, you receive 25 full domains and 25 subdomains. That's 50 websites. Most people only build maybe five at the mmost. This means, if you want, you can use your account to learn how to build a website and make money hosting it for local businesses.
There are other ways to earn a good living working from home including WA's own affiliate program which has one of the most generous commissions out there. This is by far and away, my favorite way to create a passive and supplementary income stream!
The chart below shows the comparison between the two types of accounts. At the very least, you owe it to yourself to check sign as a free basic member. You will be offered an opportunity to get a premium membership for only $19 for the first month. After that, it's $49/mo.  
Black Friday… The Best Deal
You might want to consider the monthly payments until November when the annual Black Friday sale kicks in and then sign up annually for $299 (this averages out to 24 bucks a month – a no brainer). That way, your low annual fee is locked in every time you renew.
It's not a bad idea to sign up just for that first month, either, because after the first few weeks, you'll know if it's for you or not and $19 not a big investment. I guarantee you'll get your money's worth even if you don't continue.. 
Don't hesitate to leave any questions or comments about WA in the comment box below. I'm a premium member myself, and I will answer any questions you have personally – and with pleasure!
Thank you,
Hal
Here is a chart to show you the features and benefits of both the Free Starter Membership and the Premium membership:
______________________________________________________________________