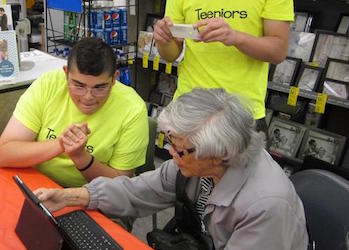 According to statistics,  half of America's population will be over 50 years old by 2017, and they'll control 70 percent of the nation's disposable income. Enter Teeniors®, a startup company whose primary goal is to empower seniors and young adults through human connection.
"If you're dealing with seniors, most of them aren't just going to adapt to some cool new technology, no matter how awesome it is," says Trish Lopez, founder of Teeniors. "They want someone to help them connect."
Source: How Teeniors is capitalizing on a trillion-dollar market opportunity: seniors – Albuquerque Business First
Well, that's all well and good for New Mexico, but what about the rest of the country, I wondered. So I searched and found that there are similar companies and organizations all over the country. Some are non-profit organization, others are for profit companies, some offer a free option or sliding pay scale for those who need assistance.
If you are a senior in need of help with your new phone, computer, camera or other digital device: or you are someone with  a gift for imparting your knowledge about technology, fill out the contact form and we'll try to put you together with someone who can help or needs your help.
We will be  compiling more information about teenage mentoring for seniors, so fill out the form if you'd like to be notified as soon as it becomes available.