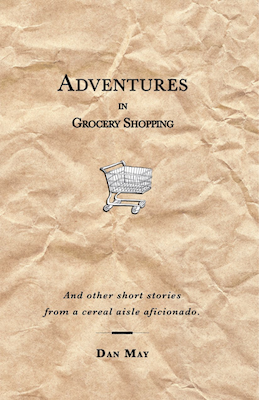 Adventures in Grocery Shopping – And other short stories from a cereal aisle aficionado
This is a book that I feel very, very good about recommending to any friend or stranger. I was introduced to Dan May through a mutual friend, fellow singer/songwriter Liz Miller. She suggested I send a friend request to Dan, because she thought we had a lot in common and a similar sense of humor. So I did, Dan accepted my request and it wasn't very long after that the three of us were conversing and sharing stories over pie at Magpie, a quaint little artisan pie café in Center City Philadelphia.
Ahh, but I digress. This is supposed to be a review of his book, "Adventures In Grocery Shopping". So here goes:
Every day, sometimes more than once per day, Dan posts to Facebook… his thoughts, musings, anecdotes or stories about family, friends, his past, the day's events, etc.  But he usually reserves Sunday's post for a recounting of one incident or another that has taken place during his weekly excursion to the supermarket. These are the stories I've always found myself looking forward to the most (and I suspect, most of the rest of his  friends and fans do, too).
And just like in real life… you have to wait until Sunday to read his latest grocery store-y (See what I did there?), In fact, in the book, all of the Adventures in Grocery Shopping are toward the back of the book, in Part 4. I believe that was a wise decision on Dan's part, because, if you read the book from the beginning (at least it's true in my case), you just might discover some of the gems you would have missed during the week… and we all know how easy it is to miss a post on Facebook in the first place.
Now, some of these anecdotes are extremely funny. Some are very sad. Some fall somewhere in between. But all of Dan May's stories have one thing in common. They are all very well written, and each one leaves you wanting more, So much so, that often times, in the comment section, at least on of his Facebook friends would suggest he publish a book of his short  stories. So, that's exactly what he did. The result – a 380 page collection of Dan May's greatest stories, "Adventures In Grocery Shopping: And Other Short Stories From a Cereal Aisle Aficionado
".
You'll LAUGH! You'll CRY! You'll HURT!
"Smart, funny, poignant and ultimately inspirational, this compilation of essays by singer-songwriter Dan May is the direct result of the demand by readers of his daily Facebook posts to publish them into a book form."

Source: Adventures In Grocery Shopping: And other short stories from a cereal aisle aficionado:
Amazon.com: Books
I'm tempted to go into that narrator's voice you might have heard when watching a movie preview in a movie theater back in the day… "You'll LAUGH, You'll CRY! You'll HURT"  But it's true. And what's more, every one of these short stories are short. So, you can read as much as you like. You could finish the book in a day or two, or you can read it in small chunks. I start each day with one or two stories at a time.  If I read one of his more sentimental or sad episodes, I'll read the next one just to cheer myself up again. If it's a funny or thought entry, I let that be the start of my day. Dan's stories are more than just simply stories… they're affirmations. They are reminders that the Golden Rule is still alive and well.
Adventures in Grocery Shopping by Dan May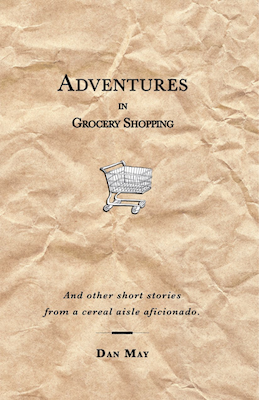 I'm tempted  to recount some of his  stories, just to offer a few little teasers, but you know what? I'm not going to do that. One of my pet peeves is when a friend gives away part of a movie I haven't seen yet, so – no spoilers about the book. I'll  leave it for you to discover the magic of a Dan May story for yourself!
One last thing: If you ever have a hard time deciding on a gift for someone, you might want to consider gifting this book. So, if you don't have a  copy of your own, I suggest you buy TWO!
…if you don't have a  copy of your own, I suggest you buy TWO!"
Out of respect for Dan, I must request that you don't click on any ads on this page, except to buy the book, of course. (Dan hates clickbait) So, please scroll below the ads to read or leave a comment!