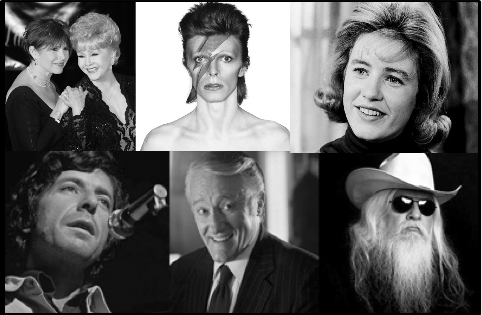 2016 – A Baby Boomer Retrospect
Hal A. Cohen
Live For the Living
A recent post by one of my Facebook friends really got me to thinking about all things related to celebrities; all of the music icons, movie stars, historical figures, my real world friends, myself – and our relationship to each other. To paraphrase, he said that Debbie Reynolds and Carrie Fisher are not hanging out together in heaven. They are dead. Just dead.
I must admit – that stings; and it really got me thinking. Yes, even for me, that came off as quite harsh. Because for me, it's not about whether or not there is an afterlife, a Heaven or a Hell. It's not about whether we are reincarnated or simply cease to exist. It's not about whether we knew someone famous personally or not. It's about our relationship to the events in our own lives and the memories that are triggered by those whose lives we all had in common. In effect, what we mourn is our own mortality.
Did Carrie Fisher ever call to wish me a happy birthday? Did Glenn Frey ever bring you a bowl of chicken soup when you had a cold? Did George Michael ever show up at your mom's funeral?
No. Of course not (unless he did).
So why do we sit stunned for hours on a rainy day, staring out the window and crying our eyes out over people we've only seen on the television or in movies, heard on our iPod or seen perform live once or twice in concert or in an interview a late night talk show? Why do we post "RIP – I'm going to miss you" about people we've never met or hadn't even thought of until the day we learned that they've died?
Why? Because as human beings, we all shared their lives. We lived vicariously through them in a very real and physiological way while they were alive; and, upon each passing, a part of us dies with them.
"According to Todd Fisher, Reynolds was planning her daughter's funeral when she suffered a stroke. She died a few hours later. It's hard not to read Reynolds' timing as the ultimate expression of grief. The natural order is that children should outlive their parents."
Source: Debbie Reynolds' Relationship With Daughter Carrie Fisher | Time.com
David Bowie
For example, When I first read that David Bowie died, I didn't flashback to my childhood with David, romping around with him on the streets of London, stealing plums from a fruit vendor in a farmer's market, 'cause of course, that never happened.
I grew up 3500 miles away, in Philadelphia, PA, in the United States. Nevertheless, Bowie's life played a huge part of my own in a profound way. I remember vividly, the day I discovered an album in the 99 cent bin at a hippie record store on Sansom Street, in the early seventies. It was called The Man Who Sold The World, on the Mercury Records
That's right. RCA hadn't even heard of him yet. I was always one of those people who could spot a superstar before they became famous; Bowie was one of those soon to be superstars.
I picked up this odd looking album and began reading the lyrics to the songs (in those days, it was common for the song lyrics to be printed on the back of an album jacket containing a vinyl record). I stood in the store poring over every word and decided I HAD to hear what the music sounded like.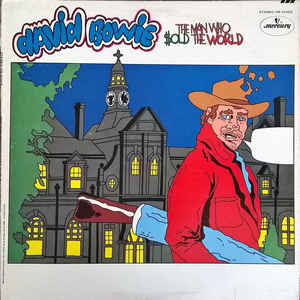 The first listen spoiled me for the first time since the Beatles appeared on Ed Sullivan. This new sound was fucking amaze-balls! From that point forward, for a very long time, for me, the "new Beatles" was David Bowie, Mick Ronson, Trevor Bolder and Mike Garson produced by Tony Visconti (who for me was the "new Sir George Martin")
The following year, I ended up in Boston, Massachusetts, working as a one-man-band/sandwich sign guy. No shit. Top hat, harmonica, bicycle horn… the works! My job was to stroll up and down the streets of Harvard Square wearing a sandwich sign advertising the local shops and playing music on the guitar. Among my sponsors was a suede and leather shop, a shoe store, a deli, a bakery and a women's boutique.
One day, I was doing my sandwich man thing… just strolling up the street, sporting my black top hat, playing my harmonica and occasionally tooting the bicycle horn, when, a straight-looking guy in a suit approached me. In fact, in those days, we literally referred to ago like that as "a suit". So, this "suit" asked me if he could rent my entire sandwich sign, front and back, for two weeks. He went on to explain that he worked for RCA Records and they had just acquired a new artist, that it would be cool to advertise his upcoming new album this way.
Without missing a beat I asked, "Is his name David Bowie?" The guy's jaw dropped. He must have thought I was psychic. After telling him the story of how I had discovered his album the previous year, we had a good laugh and sure enough, he ended up "renting me" to promote the "Ziggy Stardust" album with my sandwich sign and one-man strolling show. To this day, I feel I was an integral part of introducing the David Bowie phenomena to the world. Well, at least to Harvard Square.
I never met Bowie. But I did see him in concert at least a dozen times. I went to every show at the Tower Theater in Philadelphia where his live album DAVID LIVE was recorded. You can still hear my voice shouting and screaming from the audience between some of the songs during playback.
As fate would have it, during my lifetime, I have had quite a few celebrity encounters. Some living. Some deceased. All, part of the story of my life. Each time the world loses one of our heroes, or icons, or stars, or famous person, we lose a little bit a part of ourselves. It doesn't matter that you only saw them on the big screen. Or the little screen. Watched them on Netflix or Me Network. Maybe you never saw them at all. You just heard their song on the radio; danced to it at your wedding, or bopped your head to it in your car. Fell in love to their song. Broke up to their song; the sound of their voice makes you relive a precious moment.
THIS is why we are so affected by so many passings in 2016. David Bowie, Prince, Glenn Frey, Alan Rickman, Robert Vaughn, Alan Thicke, Leon Russell, Leonard Cohen, Patty Duke, Carrie Fisher, Debbie Reynolds and the others. We are their legacy. And a piece of us goes dark every time the light from one of our stars goes out.
So when someone says you're crazy or sappy for mourning a celebrity, someone you never even knew them – rest assured… Yes. You did.
Please share your thoughts about the impact of 2016 on your life or anything else in the comment section.