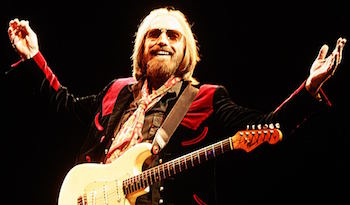 Not Just Another Petty Grievance
The day Tom Petty died was probably one of the saddest Mondays in the history of the world. Earlier in the day, a shooter killed 58 people and wounded 489 others in a crowd ranging in age from 20 to 67. They were mothers, fathers, sons, daughters, husbands, wives and friends, all gathered for the Route 91 Harvest Country Music Festival. Gunshots ended the festivities when a shooter armed to the nth degree opened fire on the unsuspecting crowd during Jason Aldean's set. It was towards the end of his last song, so the crowd assumed that the sound of gunfire was just the pop. pop. pop! of fireworks – so no one realized what was happening until bodies hit the ground.
To  read in-depth coverage from the beginning to latest updates, click here for the the L.A Times coverage.
Tom Petty – Heartbreaker
As if the day didn't begin tragically enough, Tom Petty, one of the most iconic musicians of our time passed away on that very same Monday. For most baby boomers, even those who may have only listened to his music peripherally, his songs were an integral part of the soundtrack to our lives. Titles include American Girl, Refuge, Even the Losers, Freefalling, I Won't Back Down, Dancing at the Zombie Zoo, the list goes on and on. Not to mention he was one of the Traveling Wilburys. Other  Wilbury members who have passed away are Roy Orbison and George Harrison. My sweet Lord only knows there are now more amazing musicians in Heaven than those remaining here on earth. Concerts there must be truly "heavenly"! Then again, there are no real guarantees that's where all of them ended up. Rest in Peace, Tom!
The beautiful photo and featured image at the top of this page was taken by Paul Zollo at what turned out to be his final concert ever – at the Hollywood Bowl. Word from Paul and other freinds who were there was that it was more of a celebration than a concert.Wish I could have been in attendance myself.