It's My Potty And I'll Squat If I Want To
You've probably seen the ads and banners on various website by now. They're even here on this website… I first became aware of the Squatty Potty while watching Shark Tank, the ABC show where inventors and creators of innovative new products try to get the money they need to grow their business from  a panel of five multimillionaire investors who take turns grilling the poor saps to the point of tears. To my recollection, the only tears during the Squatty Potty demonstration were streaming down the faces of the panel from laughing so hard.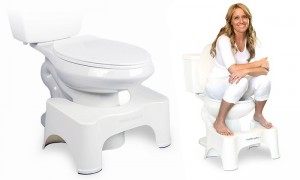 But truth be told, there's nothing funny about how devilishly brilliant this little stool that sells for 29 bucks, truly is. And anyone watching this presentation unfold could easily see that Bill, Judy and Bobby Edwards, the lovely family who have brought this remarkable little stool into the national psyche, were going to get the deal of a lifetime. In the end, they signed a deal with Lori Greiner, the Queen of QVC. If you click on one of the Squatty Potty banners, you can see the video on their website. Good stuff!
Here's the Scoop on How To Poop
At first glance, this may all sound like a load of crap, but the truth is, there's real science behind this little wonder. You're probably aware that since the earliest days of mankind, humans have always squatted to do their business. Even today, a large segment of the world population squat to poop. The modern toilets that we use here in the U.S. have only been around since the 19th century. A version  similar to the ones we use now was invented by Thomas Crapper (YUP – that's where the expression "Hey, I gotta use the crapper" comes from). But apparently, Ol' Tom didn't know squat about posture when it came to relieving oneself. I guess he just thought of a bathroom break as an opportunity to sit and read a book.
It's Not The Seat, It's The Posture
As the toilet evolved, they became more beautiful. More garish. You could get a nice American Standard toilet, or a designer Kohler toilet seat, with jeweled toilet lid and gold-plated hardware, but it's not going to do you any good if you're constantly straining while trying to squeeze out the motherlode.
This Is Your Colon Calling
  

–  Are You Sitting Down?

Well, I've got some news for you. The Squatty Potty is the solution to what's been causing colon problems all over the world for the last 200 years. It's simply a perfectly designed plastic stool that slides out of the way around the base of your toilet when not in use. When you're ready to go, simply pull it out and put your feet up. It forces the Puborectalis Muscle, that ordinarily crimps your colon when your trying to go, to relax and let the colon open up to let you do what you have to naturally  and easily.
Best Stool Sample I've Ever Had
When I ordered my Squatty Potty, I was already convinced that this cool stool was going to be everything I heard it was. Even Howard Stern raves about it. And you know, a guy with a potty mouth like his knows what he's talking about. So when I called the company to ask if I could get approved as an affiliate for Squatty Potty, I was elated when they gave me the green light. Not  only that, they graciously sent me one for review. Just like I said in the headed, "Best stool sample I ever had! So without any further jokes or puns, let me just say this: It's not hype. The Squatty Potty is the best 29 bucks you'll ever spend. Once you use it, you'l wonder how you managed to live this long without one. In fact, I read one review a while back where the author said the only thing wrong with it is, he didn't know what he'd do when he was visiting a place that didn't have one. Well, guess what? They now even offer an inflatable, portable Squatty Potty for only $10.
Bottom Line
They offer a 60 day money back guarantee.  But I'm here to tell you… Within 60 days, you're more likely to order a second Squatty Potty for your other bathrooms or as a gift for a friend, than to part with the one you just got. So, what are you waiting for? I'm all pooped out from writing about it. You've gotta get one!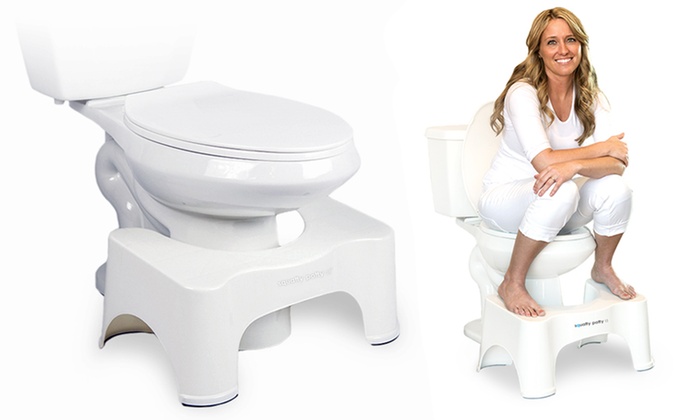 The Original Squatty Potty