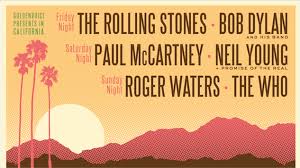 This is what the British Invasion has ultimately led to. The headline on the My News L.A. website reads, "McCartney, Jagger, Dylan Rockin' in their 70s: 'Oldchella' Tix On Sale…"
OLDCHELLA?!! Man that hurts. Yeah, I know we baby boomers have gotten up in years but, let's face it… Seeing it in wrtiting – a rock concert featuring the likes of Paul McCartney, Mick Jagger, Bob Dylan and Neil Young billed as "Oldchella" – now that is sobering. Seems like just Yesterday, Paul McCartney was singing, When I'm Sixty-Four, and it probably gives Mick Jagger no Satisfaction at all to hear Neil Young singing, "…it's better  to burn to than to fade away". In the words of Mr. Tambourine Man himself… The Times They Are A-Changin'  
This all takes place Oct. 7-9 and Oct. 14-16, 2016 at the Empire Polo Grounds in Indio
Well, I'm here on the East Coast and I have no plans on making the trek to this promising upcoming desert concert, but I am happy for those that will be making it out to the show. I can just see it now. A VH1 news reporter on the scene interviewing some old geezer:
Reporter: How are you enjoying the show sir?
OG: Fantastic, Once you start me up, start me up, I never stop. I just wish there were more port-a-potties. Good thing I'm wearing the best brand of undies to have at a rock festival.
Reporter: And what is the best brand of undies for a rock festival?
OG: Depends
BA-dump-bump. 
In the meantime, Paul better start working on, When I'm Ninety-Four. We already still need him and he's apparently able to feed himself.
Senior citizens Paul McCartney, the Rolling Stones, Bob Dylan and Neil Young are still alive, still performing and still ready to take your money as additional tickets to "Oldchella" went on sale Saturday.
Source: McCartney, Jagger, Dylan rockin' in their 70s: 'Oldchella' tix on sale – MyNewsLA.com