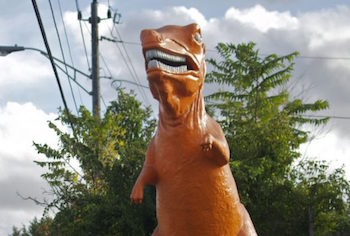 Learned about this through my daily Google+ updates. It brings back memories of my childhood as my dad used to take us miniature golfing quite often. Ours was in Northeast Philadelphia and was distinguished by a giant windmill that you could see from the highway. I remember being frustrated by that windmill constantly. You had to get the golfball past those spinning blades before you could complete the course. Whatever hole it was escapes me now, but I remember that's where the course got backed up because everyone had to wait for whoever's turn it was to get past that thing.
So when I saw this article in the Cognoscenti, I thought, "Wow, I wish ours had a dinosaur!"
It seems Saugus, Massechussetts, was in danger of losing one of it's landmarks; a miniature golf course featuring a giant orange Day-Glo Tyrannosaurus Rex. You can read more about it as author Darren Garnick recounts his memories of those idyllic days at the Route One Miniature Golf Course (and Batting Cages) during his Saugus, Mass childhood
Anyone from the Boston area needs no further description of the DayGlo T-Rex overlooking Route One Miniature Golf & Batting Cages in Saugus…. in the 1970s."
Source: Nostalgia Is A Big Orange Dinosaur | Cognoscenti
Who remembers miniature golfing in the 60's and 70's?
Share your experiences in the comments below!